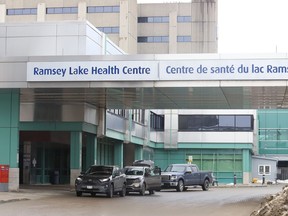 Article content
A weapons incident in Health Sciences North's emergency department last month has upset staff and prompted the hospital to review and enhance security measures.
Article content
On Oct. 11, police were approached by an emerging clerk with a male subject who stated he had a firearm.
"Information was provided that the subject was looking toward the main emergency public entrance," Greater Sudbury Police said. "Patrol officers attended HSN and the subject was taken into custody without incident."
A search revealed that the man was in possession of a type of revolver for blank firing. It was "loaded with empty cartridges and stuck in the front of his waist," police said.
While clearly less dangerous than an actual gun, the weapon posed some risk to staff and patients.
"It was later determined that the gun was a starter pistol loaded with starter caps, a weapon that has the potential to cause serious or fatal injury," HSN CEO Dominic Giroux said in a blog shared with staff. "This serious weapons program was extremely distressing for the emergency department team and will likely be distressing for those who heard about it."
Article content
The way the person got into the hospital was also disturbing.
The CEO said security footage showed the man entered the staff through a card-swipe door that wasn't firmly closed and proceeded to the north tower.
"While we now have fewer access points to the building, it is important for building services or security to immediately report any secure door that is not working properly so it can be fixed," he said.
Giroux credited the "quick actions of the registration clerk, triage nurse, emergency department team and HSN security personnel" for resolving the incident "without injury to Rosie or our people."
A 31-year-old man was arrested and charged with possession of a weapon for dangerous purposes.
Article content
"There were no guns pointed at employees or personal threats made," Giroux noted. "Police were called immediately and quickly responded and arrested the individual in the waiting room."
While the situation was resolved peacefully, it still raised the obvious question of what would prevent someone with a real, loaded gun from entering the emergency department or any other area of ​​the hospital.
"There are no metal detectors," said Lise Morissette, president of the CUPE local that represents many employees at HSN, including clerical workers. "They've also changed the screening protocols now, so when you come in you're not asked if you've tested positive for COVID or anything – you go straight to reception. Someone is telling you to make sure you have a mask."
Article content
However, before the pandemic investigation, "nobody was ever checked and there were no metal detectors," she said. "This is a big concern, especially in this day and age. With everything that's going on with Covid, we've noticed that there are more mental-health issues, so I think more needs to be done."
The hospital says it has taken steps over the past year to both increase security and address potentially violent situations in Ankur.
In June, the organization hired 25 in-house security guards for the Ramsey Lake Health Center, media spokesman Jason Turnbull noted in a message to the Star.
"The presence of HSN-planned security is helping with better trained and more consistent security personnel," he said.
Article content
Also, the hospital established a behavioral escalation support team last year, which is "focused on supporting our organizational commitment to preventing workplace violence," Turnbull said. "They are a front-line, peer support team, whose main role is to support potentially escalating behaviors across units across the organization."
However, many employees remain concerned about future threats.
Some also feel the organization failed to follow its own procedures to support employees after the recent gun scare.
"After a serious incident at the hospital there is a team of high-level staff who are expected to respond and debrief the staff," wrote one person, who asked to remain anonymous. "The manager on call never showed up and neither did the team. For the next two days it was reported that the on-call manager was sick and the next person in line didn't answer their phone."
Article content
Turnbull said a back-up process had been put in place for senior leaders since the incident.
"In this case the hospital's after-hours manager was on site and attended the ED to support and speak to the staff directly involved when the incident was reported," he said. "A program director was present that morning and spoke with staff directly involved in the program."
Morissette said the presence of a weapon is classified as code silver in the hospital's system for emergency response (red means fire, while amber means a missing child) but she found that warnings were not properly communicated or acted upon.
A CUPE representative said she was formally informed of the incident last Tuesday – about two weeks after it happened – via the CEO blog.
Article content
The ability to show a person carrying a weapon on the premises "is for all employees and especially for employees who work in registration areas that are isolated and where they are isolated for a period of time," she said.
Employees are expected to report emergencies through the hospital's switchboard, "but if you're alone, you don't always have time to call the code," she noted.
Fortunately, the receptionist was able to be prepared for the situation on October 11, she said, but management, in her view, failed to assist employees in time.
"I did not appreciate the way this was handled so I sent a response to management, saying it was not handled properly and we should have been notified."
Article content
Giroux assured employees in his message that lessons have been learned and future incidents will be handled better.
He said several actions were taken in response to the event, including the establishment of an additional security presence at the event, an assessment of the waiting area for security and the installation of new CCTV cameras in the waiting room.
Also, "simulation lab-led table-top exercises are being planned along with emergency preparedness to aid in Code Silver (weapons at risk/active killer) readiness," Giroux said.
The CEO noted that the hospital has fortunately not had such incidents before, but the Oct. 11 scare "is a reminder that we must do everything we can to reduce the risk of harm from the use of weapons."
He said the hospital will conduct "more Code Silver response training" in the coming months and that the response process itself is being updated, "with input from the Greater Sudbury Police Service, including what we've learned from this program."
jmoodie@postmedia.com